At Seiber Restoration, we are your waterproofing professionals.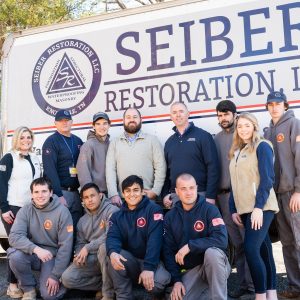 We know, that as a homeowner, it can be very unsettling to have water issues. So, when you are faced with water that is seeping into your living areas, basement or crawlspace, we want you to know that you have options.
You can contact us. Or you can contact one of our franchise competitors.
Most of the franchise waterproofing companies, which have set up shop in our community, offer their clients an "interior" waterproofing solution. This is where their technicians actually drill weep holes into the basement or crawlspace walls that allow the water to freely enter the home. Once inside the home, the water is channeled to a sump pump or an interior drainage system. Of course, the interior drainage system must first be installed by jackhammering around the interior of your basement or crawlspace. Once their drainage system is installed, then their technicians will re-pour a slab of concrete over the drainage lines. We are NOT one of the companies that offer or recommend an "interior" waterproofing system.
At Seiber Restoration, we feel that this "interior" method is akin to drilling holes into the hull of your lifeboat, in order to channel water to a bilge pump. Why would anyone do that? By allowing the water to pass unimpeded into your home, you are also allowing the water to continue to undermine your home's footer, as well as allowing moisture and dangerous molds to grow. Of course, they will gladly sell you a dehumidifier to attempt to control the moisture created by their system. Ask yourself this, if holes are drilled into your walls that allow water to pass into your home, is your home really "waterproofed?"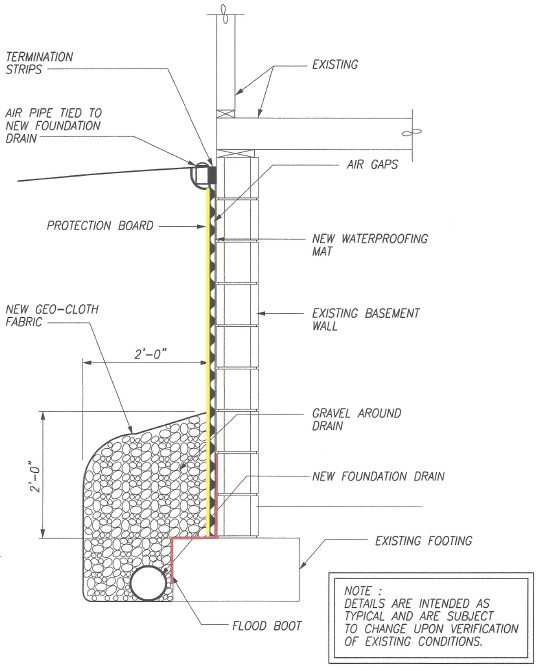 At Seiber Restoration, we offer our clients an "exterior" waterproofing solution by installing the Platon® waterproofing mat to the outside of your home. Platon is an extremely rugged, dimpled, high-density polyethylene (HDPE) membrane that will keep your foundation and flooring dry for decades to come. Platon does this by creating an impermeable vapor barrier and air gap, between your walls and the elements, allowing the concrete foundation to breathe while keeping moisture out. All of our Platon products come with their exclusive 30-year warranty. Platon has been used to waterproof foundations since the early 1990s, with absolutely no reported leaks.
So, give us a call today and let one of our licensed general contractors show you what Seiber Restoration and Platon can do for you and your home.